Updated 4/15/2013
I have had several people write me with questions about what are the correct carburetors for their Max Wedge and Race Hemi cars. When you are looking for carburetors for your Max Wedge and Race Hemi projects it is important to locate the right carburetors so lets get down to it.
1962 413 Maximum Performance Wedge
All 1962 Max Wedge engines were equipped with a pair of Carter #3447 AFB four barrel carburetors. These were roughly a 600 cfm carburetor with small 1-7/16 inch primary and larger 1-11/16 inch secondary throttle bore sizes. They were great carburetors and perform well on street applications and race cars. You can tell a #3447 style carb at a glance so if you are building a 1962 model year Max Wedge car it is important for appearance sake to have the correct carburetor. Here are a few pictures of what a #3447 Carter carb looks like.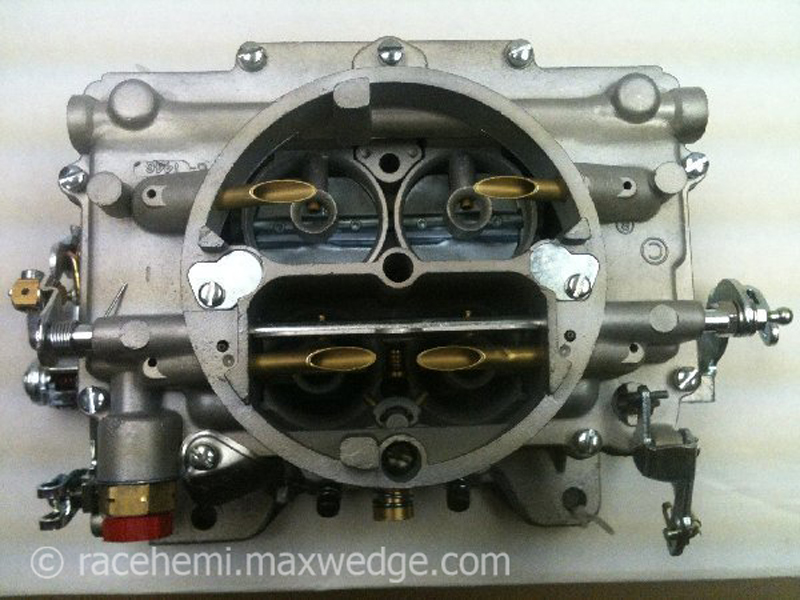 photo courtesy of Norm & Brian Brady


photo courtesy of Norm & Brian Brady


photo courtesy of Norm & Brian Brady


photo courtesy of Norm & Brian Brady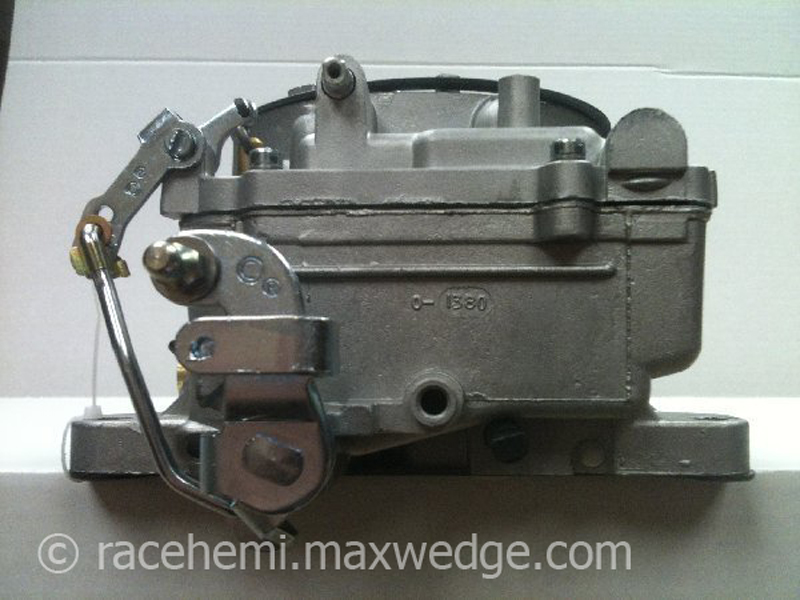 photo courtesy of Norm & Brian Brady


photo courtesy of Norm & Brian Brady
Notice the fuel inlet is on the front right side of the top cover and points straight forward. They can be identified by the Carter carb number stamped on the front right mounting ear and a build tag that would be attached by one of the top cover screws. there will be the number 3447SA and next to that or below that stamping there will be a date code stamped on the same ear.
For example a carb built in May of 1962 will have an E2 stamped on it for May (E) 1962 (2). If the carb were built in January it would have read A2. A 1962 model year car would not have a carb built later than probably June (F2). It is possible a late July car could get a carb as late as July (G2) although I am very doubtful of that. If anyone out there has information to the contrary please let me know and I will post the information.
1963 426 Maximum Performance Wedge, Stage I
In 1963 Chrysler upped the cubic inches of the Max Wedge to 426 inches but the carburetor was the same carburetor #3447 AFB used on the 1962 model engines. Same fuel inlet pointing forward straight forward, same everything. Like I said earlier it was a great carb so I guess the old "if it ain't broke, don't fix it" rule applied here. Just like the previous year the 1963 carbs were manual choke. On a Stage I engine it would be possible to have a carb build date clear back to early 1962 so the only thing to look for is a pair of carbs the precede the build date of your cars engine by at least two months or longer. I have seen May 63 cars with E2's on them so just try your best to be sure to precede your cars build date and you will be fine. I have also seen carb build dates as close as one month prior to the engine build but that's not a common rule of thumb. A carb build date newer than you car would suggest your carbs had been replaced at one time. That's not exactly the end of the world but in this accuracy crazy time we are living in where everyone is an expert it's a lot less headache to just look for earlier carbs than your cars engine build and not be lectured by an "expert" on the show field.
1963 426 Maximum Performance Wedge, Stage II
In June of 1963 Chrysler released the new Stage II Max Wedge engine package. This package had modifications that were upgrades to the Stage I engine program. In this new package the AFB carburetor size was increased to 750 CFM. This new carburetor was model #3705 and had equal size 1-11/16 inch primary and secondary throttle bore sizes. This new carb also had a larger diameter air horn where the air cleaner sat down just like the majority of 1968 and later four barrel carbs had. The fuel inlet was on the left rear corner of the top cover. The #3705 carbs were also manual choke as before. Here is a factory photo comparison of the external differences between the #3447 and #3705 carbs.
If it's a little hard to read the factory text just below the carbs pictured above, the 3705 carb pictures are the top left and right and the 3447 pictures are the bottom left and right.
This new #3705 carburetor has a different fuel line arrangement. It's another one of those things the people in the know catch in a quick glance. This was a better carburetor for drag racing than the previous smaller #3447 but it was a bit to big for street driving and slowed you down a little as a result of over carburetion. I know this to be true from people on the street noticing a better throttle and power response from the smaller #3447. With hard core tuning I am sure this difference could be eliminated on the #3705 carburetors.
Unlike the 1962 and early 1963 Max Wedges carbs, the #3705 carbs that were supplied on the assembly line production cars did NOT have the model number or build date stamped on the right front ear. These carbs were only identifiable by their build tags that were attached by one of the top cover screws. The carb build date codes were the same as the previous two years used on the #3447 carb ears and tags. Most of the production line #3705 carb tags did not have a stamped date code on them, so don't worry if your #3705 carb tags aren't date coded. This carburetor was such a successful carb for Chrysler that they continued to offer it as an over the counter high performance replacement carb into the eighties. It is important to note however that ALL of these replacement carbs were stamped on the right front mounting ear unlike the production pieces. They also had the build tags as did the originals. Carter changed the font on the stamping of the #3705 replacement carbs once so the early replacements are more of a square type block font where the later carbs had a rectangular or taller lighter struck block font. I know this sounds like I am getting a bit to fussy but if you care, you need to know.
1964 426 Maximum Performance Wedge, Stage III
In 1964 the Carter #3705 was used throughout the remainder of Max Wedge engine production. With a newer intake casting and a summer 63 jump on development the #3705 AFB proved to be the only way to fly. Here are some detailed exterior photo's of the #3705 Carter carburetor.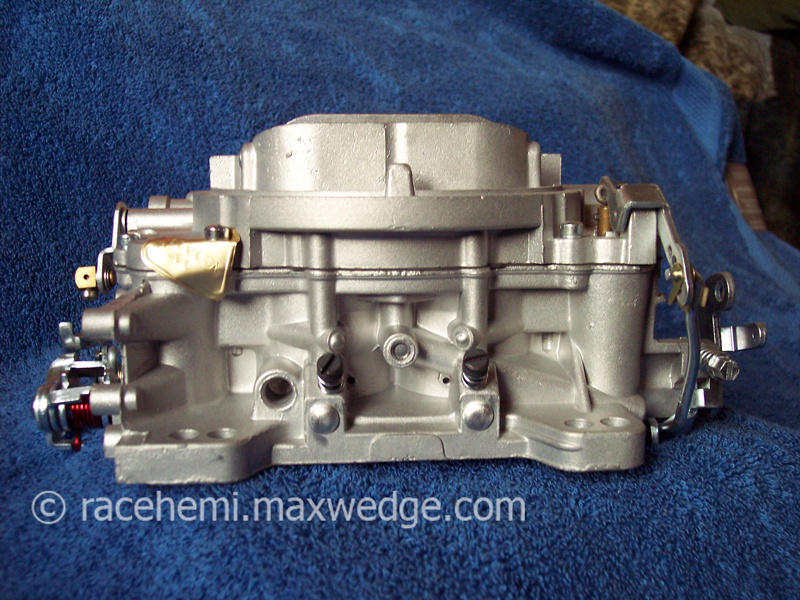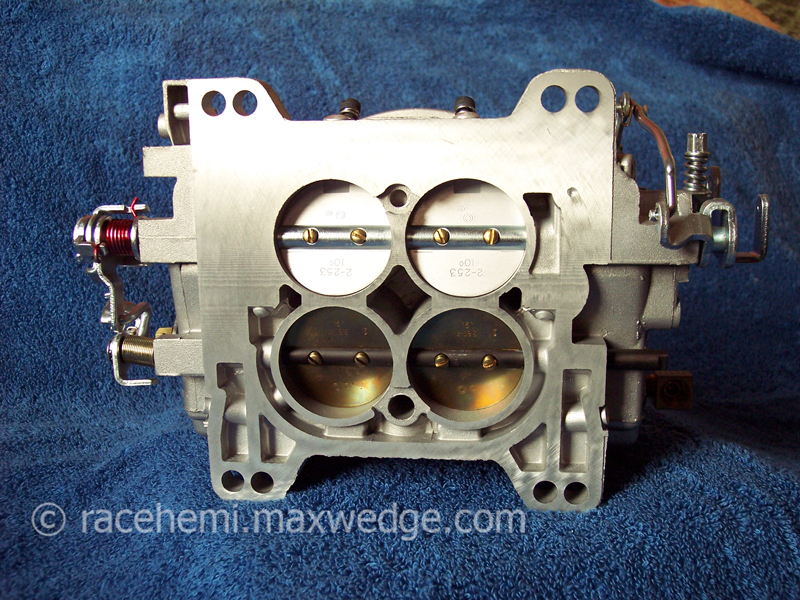 Notice on this choke plate there is a spring loaded vacuum relief valve. Because these #3447 and #3705 carbs did not have vacuum activated choke pull off's like most regular carbs did, the engineers put this vacuum pull off in the choke plate. You would manually choke up the carbs by a choke cable for cold starts. When the engine was running cold and the choke was pulled shut, this valve would get sucked partially open to keep from over choking the engine. All Max Wedge and Race Hemi engines had this choke plate feature when using Carter carburetors.
Any #3447 or #3705 carb is worth getting over an aftermarket universal replacement carb you can buy today. Just like the features I have already mentioned above, ALL Max Wedge carbs have very unique and specific throttle linkage arms unlike anything you can find today. These unique throttle arms have specific locations for the linkage rods to attach and include a special tab for the return spring to attach to. These different arms are noticeable from as far away as twenty feet so don't think some generic carb will do if you are trying to be accurate in appearance.
Like I mentioned before in the descriptions above, all 62-64 Max Wedge carbs were manually choked. This required a special double pull manual choke cable already being used on the dual carb long ram Chrysler 300 program. This special cable was mounted to the dash, left of the steering wheel in a couple of different locations depending on the year and model. This cable used to be a bear to find when building one of these bullet cars but in recent years they have been faithfully reproduced so you can still buy one today.
1964 and 1965 Race Hemi Carburetors
When the Race Hemi engine program got under way the engineers needed a pair of carbs for the drag engine package. Once again the Carter #3705 AFB was used on the prototypes. With changes in jetting and metering rods figured out the new number for this great carb was #3861. These new #3861 carbs looked virtually identical to the #3705 carbs except for the tag numbers and the blue tag color.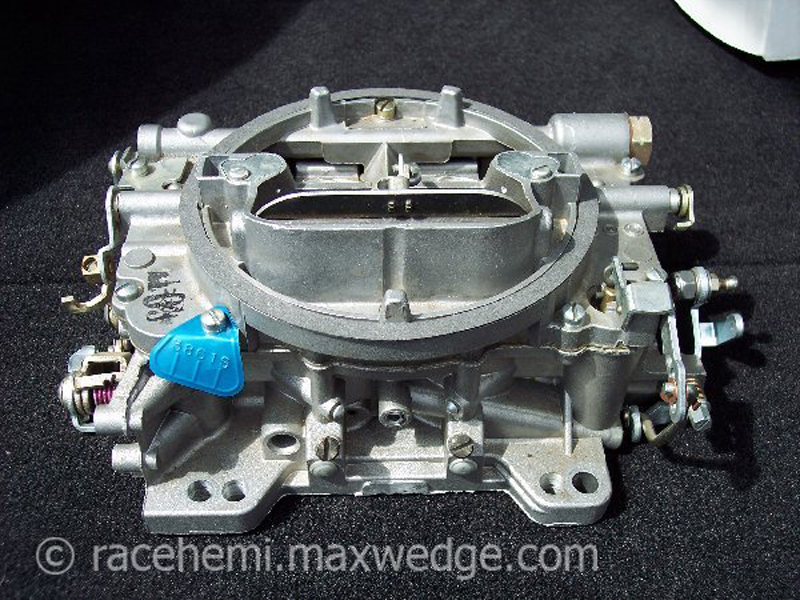 It worked out great just as before with the Max Wedge program but the engineers were also working with the Holley 770 CFM carb. Once they got the Holley carbs working even better than the #3861 Carter the new #3116 Holley became the staple carb for the remainder of the 1964 and 1965 race Hemi drag package cars. Here are some pictures of a #3116 Holley carb.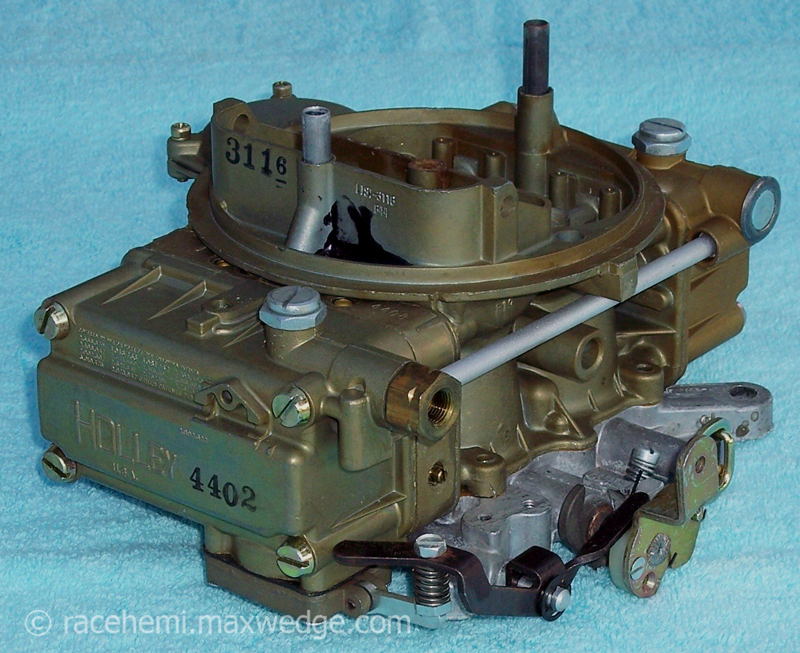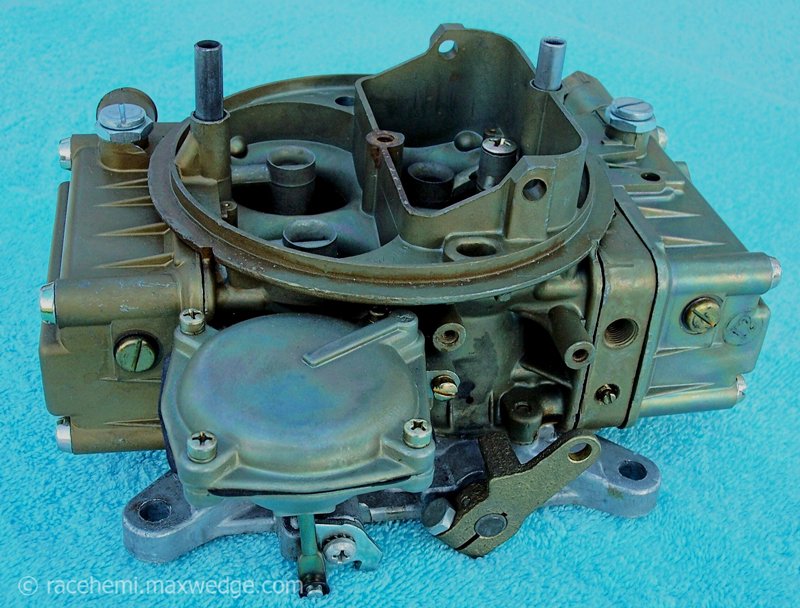 Just like the Max Wedge engine program the Race Hemi carbs did not have a designated left or right carburetor number. As the engineers got to where the left and right carbs became more finely tuned "per side" right #4235 and left #4236 part numbers were designated for the 1968 Race Hemi's. Even today you can buy these later generation 68 carbs through most of the better higher performance Mopar parts dealers or Holley. These Holley carbs look pretty much just like most vacuum secondary Holley model 600 style carbs with the exception that they have a special cast bronze lever arm on the right side of the carburetor to work with the unique cross ram Hemi throttle linkage.
It is important to note that although the #3116 Holley carburetor became the standard equipment carburetor for the A864 and A990 light weight drag package cars, the Carter AFB #3861 was the standard carburetor for the 70 factory built Dodge and Plymouth steel nose hardtop Race Hemi cars in 1964. None of the Factory built hardtops were delivered with Holley #3116 carbs.
Note: The beautiful and very accurate restorations of the 3447 and 3705 carbs in this topic article were done by my good friend Brain Brady. If you need carbs restored contact me through this website and I will get you hooked up with Brian.
Greg Lane